Home
Welcome to the BSA Gold Star Owners Club website. We are dedicated to the preservation, maintenance and enjoyment of the classic BSA Gold Star & Rocket Gold Star Motorcycles.
Although the Club is the BSA Gold Star Owners Club, it is not a requirement of joining that you actually OWN one!
In fact we encourage anyone who is interested in the Gold Star to join us especially if you are looking to buy one.
Always contact the Club before you buy – there are many Club members who can give help and advice – but, of course the final decision is always up to you.
Here at the BSA Gold Star website you will be able to find information about past and future events, the history of the Gold Star Motorcycle, as well as a host of other topics relating to BSA, the Gold Star, and the Rocket Gold Star.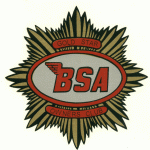 If you would like to become a member of the club please look at the membership page and join on-line or contact the membership secretary, Rachel Luke
01460 74714 / rachelluke54@hotmail.co.uk
(You will need Adobe Acrobat Reader (or a similar pdf viewer) to open the file, you can download Acrobat from here.)
If you are not already a member – what are you waiting for?